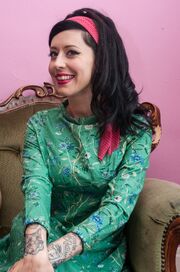 Nicole J. Georges (born 10 December, 1981 in Kansas) is an illustrator, writer, zinester, podcaster, and educator. She is well known for authoring the autobiographical comic zine Invincible Summer, whose individual issues have been collected into two anthologies published by Tugboat Press and Microcosm Publishing. Some of her other notable works include the graphic memoirs Calling Dr. Laura and Fetch: How a Bad Dog Brought Me Home. In addition to this, Georges creates comics and teaches others how to make them, produces the Podcast Sagittarian Matters, and illustrates portraits of animals. She currently divides her time between Los Angeles, California and Portland, Oregon.
Personal life
Georges identifies as queer and made a video of herself discussing her sexuality with her mother, with plans to publish it on YouTube.
According to the artist, some of her hobbies include singing, karaoke, cooking and sewing.
Notably, Georges also maintains that feminist causes are important to her. Not only has she stated that she is a proponent of "feminist voices and women supporting each other," but she also asserts that it is necessary to encourage people "to amplify their voices through self publishing, art, and music."
The artist has also been vegan since 1997, after making a New Year's Resolution to practice the lifestyle. As Georges has made known, she has always had an affinity for animals and desired to help them whenever possible. For her, veganism provides a "small, everyday way" to do so.
In October 2020, Georges married musician Kaia Wilson, the singer of queercore band Team Dresch. The two met at a karaoke night in 2006 at the Alibi Tiki Lounge in Portland.