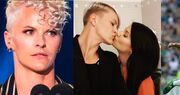 Åsa Nilla Maria Fischer (born 2 August 1984) is a Swedish footballer for Linköpings FC and the Swedish national team. She was previously the captain of FC Rosengård.
Matches and goals scored at World Cup & Olympic tournaments
Nilla Fischer has represented Sweden in four World Cups (China 2007, Germany 2011, Canada 2015, France 2019) and three Olympic Games (Beijing 2008, London 2012, Rio 2016.) Her squad finished in third place in two of those World Cups (2011 and 2019), and won a silver medal in Rio.
Twice during Olympic play she scored her team's only goal of the match, securing wins against Argentina in 2008 and South Africa in 2016.
Her 35th-minute goal against the USA on the final day of group play in the 2011 World Cup would prove to be the match winner. That result put Sweden atop their group, and is the only time the Americans have suffered defeat in the group stage of a World Cup.
Personal Life
In 2013, Fischer gave an interview to QX magazine in which she announced her intention to marry her partner Mariah-Michaela. They married in December 2013