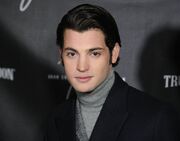 Peter Mark Brant Jr. (born December 30, 1993) is an American socialite and model.
Biography
Peter Mark Brant Jr. was born December 30, 1993 and raised in Greenwich, Connecticut. Brant is the son of businessman and art collector Peter M. Brant and model Stephanie Seymour.
In 2011, Brant publicly came out as gay.
In 2014, Brant was quoted in a Harper's Bazaar profile of him, his brother Harry and mother, Stephanie, about enjoying his clan's notoriety, "We had to do a report about our parents: where they were born, what they did, and all that. Everyone else had to do theirs as homework, but I finished mine before class ended using Wikipedia."
Brant attended Bard College in Annandale-on-Hudson, New York.
In 2015, Peter along with his younger brother Harry, in collaboration with Mac Cosmetics, launched a unisex cosmetics line aimed at the Gender fluid youth movement.