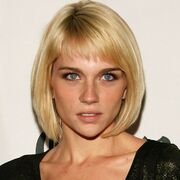 Renee Diane Alway (born April 29, 1986), is an American fashion model, the 3rd place of America's Next Top Model, Cycle 8, and the runner-up on Modelville.
Personal life
Before Top Model, Alway was a stay-at-home mother. She and her husband Jason have three children.
She has said that she has a lot of respect for German supermodel Heidi Klum. She has stated that it was hard for her to find jobs because she was just lost in a sea of blond-haired, blue-eyed models.
In September 2016, Alway established a Twitter account, where she said that she is a lesbian and an atheist.