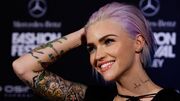 Ruby Rose Langenheim (born 20 March 1986) is an Australian model, actress, and television presenter. Rose came to attention as a presenter on MTV Australia (2007–2011), followed by several high-profile modelling gigs, notably as the face of Maybelline New York in Australia. In addition, she has co-hosted various television shows, most notably Australia's Next Top Model (2009) and The Project on Network Ten (2009–2011). Orange Is the New Black actor and model Ruby Rose was once engaged to Catherine McNeil. She was also in a relationship with clothing designer Phoebe Dahl. After the couple split, Rose wrote, "I will forever treasure our time together. I'm a better person because of all we shared." Rose pursued a career in acting from 2008 onwards. She had a small role in the drama Around the Block (2013) and came to global attention for her role in season three of the Netflix series Orange Is the New Black (2015–16). She also had large roles in the action films Resident Evil: The Final Chapter (2016), XXX: Return of Xander Cage (2017) and John Wick: Chapter 2 (2017) and co-starred in the musical comedy Pitch Perfect 3 (2017) and the monster film The Meg (2018). She also starred in the lead role of Kate Kane / Batwoman in the first season of the CW television series Batwoman (2019–20).
Personal life
Rose came out as a lesbian at age 12. She said that she was bullied, and that it included both verbal and physical abuse by her male peers, because of her sexuality and gender variance. She was also sexually abused as a child by a relative. Rose experienced suicidal thoughts, and attempted suicide at age 12. Commenting on having attempted suicide multiple times throughout her life and being diagnosed with different disorders, including clinical depression (which was initially misdiagnosed as bipolar disorder) and complex post-traumatic stress disorder, she stated that she has struggled with mental health issues all of her life. She added, "What I have learned from the struggles of mental health is just how strong I am."
Rose said she was convinced she was a boy while growing up and that she was saving up money to physically transition from female to male. She said, "It was in my mind as something I wanted to do and then I just... didn't. I guess I grew out of it. I even used to sleep on my front because I didn't want to get boobs ever, which I think worked actually." She stated that modelling led her to discover androgyny, and allowed her to model with different gender expressions. She recalled, "I remember being at a yum cha restaurant with my dad and the owner coming up and saying, 'Excuse me, we're trying to work out if you're a handsome boy or a beautiful girl.' It was a compliment and I was shocked, and when I thought about it I actually wanted to be a handsome boy."
Rose is genderfluid, saying, "I am very gender fluid and feel more like I wake up every day sort of gender neutral." This announcement came approximately a week after she released Break Free, in which she visually transforms from a very feminine woman to a heavily tattooed man. Rose stated, however, that she prefers to continue using feminine pronouns. While if she had to choose a sex, she commented that she would choose to be male, she does not feel like she should have been born with different body parts. Seeing the desire her transgender friends had for transitioning, she asked herself if her need to transition matched theirs, and concluded that she is satisfied being gender neutral. "I think at this stage I will stay a woman but ... who knows. I'm so comfortable right now I feel wonderful about it, but I also fluctuate a lot," she added.
In 2014, Rose announced her engagement to fashion designer Phoebe Dahl; in December 2015, they ended their romantic relationship. Rose was in a relationship with singer Jess Origliasso of The Veronicas from October 2016 to April 2018, having previously dated in 2008.
Rose is a vegan; she suggested that people who want to help address climate change should consider what they are eating.
In 2019, Rose underwent emergency back surgery for a spine issue that led to two herniated discs caused by her work on a film set doing physical stunts. She said if she did not have the surgery, she was at risk of being paralyzed.