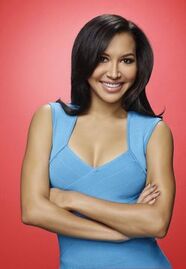 Santana Lopez is a fictional character from the Fox musical comedy-drama series Glee. The character is portrayed by actress Naya Rivera, and has appeared in Glee from its pilot episode, first broadcast on May 19, 2009. Santana was developed by Glee creators Ryan Murphy, Brad Falchuk and Ian Brennan. Introduced as a minor antagonist and a sidekick to Quinn Fabray (Dianna Agron) in first episode of Glee, Santana's role grew over the course of the show's first season. In the second season, Rivera was promoted to series regular, and Santana was given more high-profile storylines, such as the development of her romantic feelings for her best friend Brittany Pierce (Heather Morris), and subsequent realization that she is a lesbian. Rivera, who has been vocally supportive of the love story between her and Morris' character, has received widespread praise for her portrayal of Santana, as well as for her for vocal work in numerous songs performed as part of the show's central glee club, New Directions.
Santana is introduced alongside Quinn and Brittany as one of the three most popular cheerleaders at the fictional William McKinley High School in Lima, Ohio, where the show is set. She joins the school's glee club, and soon is spying on it for Sue Sylvester (Jane Lynch), coach of the cheerleading team the Cheerios. As the season progresses, she becomes more sympathetic to other glee club members, saying she is staying in the club not because Sue is forcing her, but because she likes it. She has several romantic relationships, briefly dating Puck (Mark Salling), taking Finn Hudson's (Cory Monteith) virginity, and carrying on a friends with benefits relationship with Brittany. In season two, the show delves into the motivations behind Santana's antagonism and her sexual aggressiveness towards boys; it is later revealed that her cruel attitude is because she is struggling with her romantic feelings towards Brittany, and subsequently with her lesbian identity. This storyline has been positively received by critics.
Community content is available under
CC-BY-SA
unless otherwise noted.