LGBT Rights
---
Military service
The militaries of the world have a variety of responses to gays, lesbians and bisexuals. Most Western military forces have now removed policies excluding sexual minority members; of the 26 countries that participate militarily in NATO, more than 20 permit open lesbians, gays, or bisexuals to serve; of the permanent members of the United Nations Security Council, three (United Kingdom, France, and Russia) do so. The United States (see Don't ask, don't tell) technically permits gays and lesbians to serve, but only in secrecy and celibacy.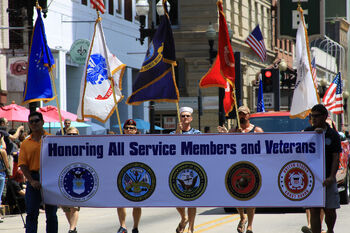 Policies and attitudes toward gay and lesbian personnel in the military vary widely internationally. Several countries allow gay men and lesbians to serve openly and have granted them the same rights and privileges as their heterosexual counterparts. Many countries neither ban nor support gay and lesbian service members, and a small group continue to ban homosexual personnel outright.
Countries that disallow homosexuals from serving in the military
Cuba
People's Republic of China
Egypt
Greece[1]
Iran
Jamaica
North Korea
Pakistan
Saudi Arabia
Serbia
Singapore
South Korea[2]
Syria
Turkey[3]
Venezuela
Yemen
Countries that allow homosexuals to serve in the military
Argentina
As of 2009, the Argentine government has officially ended the ban on gays in the military.[4]
Australia
The Commonwealth of Australia policies are to allow gay men and lesbians to serve openly.[5] Attention has been drawn to dual American–Australian citizen Norbert Basil MacLean III, who served in the United States Navy from 1989–1994 but was court-martialled on what he claims were trumped-up charges due to his sexuality and harassment from a superior officer. MacLean's harassment complaint against a superior officer for a wrongful demotion in rank was eventually found meritorious by the Assistant Secretary of the Navy and he was reinstated to his previous rank. MacLean's case pre-dates the Don't Ask, Don't Tell policy. Had he served in the Royal Australian Navy he would have been permitted to serve as an openly gay man. MacLean's case in the United States has resulted in the introduction of the Equal Justice for Our Military Act of 2009, HR 569 in the 111th Congress. HR 569 relates to granting the Supreme Court of the United States the ability to review American court-martial cases once those cases have concluded review by the military courts. On September 12, 2008, the Los Angeles Daily Journal reported in a front page article that MacLean has applied to join the Royal Australian Air Force.[6]
Austria
Austria permits homosexuals to serve openly.[7]
Belgium
Belgium permits homosexuals to serve openly.[7]
Bermuda
The Bermuda Regiment does not discriminate on grounds of sexual orientation, as it is formed by random lottery-style conscription. Officially, members of the Regiment are prohibited from discriminating against or harassing gay soldiers;[8] such activities, however, are tolerated by officers, to the extent that one conscript described the Regiment as "the most homophobic environment that exists".[9]
Brazil
There is no law forbidding gays from serving in the military. Libidinous acts are not allowed.[10]
Canada
As of 1992, lesbians, gays and bisexuals are allowed to openly serve in the military.
Colombia
In 1999, the Columbia Constitutional Court ruled that the prohibition of homosexuals from serving in the armed forced is unconstitutional.[11]
Czech Republic
The Czech Republic allows homosexuals to serve openly.[7]
Denmark
Denmark allows homosexuals to serve openly.[7]
Estonia
Estonia allows homosexuals to serve openly.[7]
Finland
Finland allows homosexuals to serve openly.[7]
France
France allows homosexuals to serve openly.[7]
Germany
The German Bundeswehr ruled that it is forbidden to discriminate based on sexual orientation. The "Working Committee of Homosexual Employees in the Military Forces"[12] is the organization that represents the interests of gay men and lesbians in the armed forces. Heterosexuals and homosexuals alike are allowed to engage in sexual activity while in the military service as long as it does not interfere with the performance of their duties. Lesbian and gay soldiers are also entitled to enter civil unions as defined by Germany's domestic "partnership" law.[13]
Ireland
Ireland allows homosexuals to serve openly.[7] Discrimination on the basis of sexual orientation is illegal.
Israel
Israel Defense Forces policies allow gay men and lesbians to serve openly and without discrimination or harassment due to actual or perceived sexual orientation.[14] This was put into effect in 1993 after an IDF reserves officer testified before the Knesset claiming that his rank had been revoked, and that he had been barred from researching sensitive topics in military intelligence, solely because of his sexual identity. Homosexuals serve openly in the military, including special units, without any discrimination.[15][16] Moreover, gays in the IDF have additional rights, such as the right to take a shower alone if they want to. According to a University of California, Santa Barbara study,[17] a brigadier general stated that Israelis show a "great tolerance" for gay soldiers. Consul David Saranga at the Israeli Consulate in New York, who was interviewed by the St. Petersburg Times, said, "It's a non-issue. You can be a very good officer, a creative one, a brave one, and be gay at the same time."[15]
Italy
The Armed Forces of Italy cannot deny men or women of homosexual orientation to serve within their ranks, as this would be a violation of Constitutional rights. However, much prejudice about homosexuals still exists within the Italian armed forces, so that they generally decide to hide their sexual orientation.[Citation needed] In the past, homosexual conduct was grounds for being discharged from the Italian armed forces for reason of insanity, and feigning homosexuality was a very popular way to obtain medical rejection and skip draft.[Citation needed]
Lithuania
Lithuania allows homosexuals to serve openly.[7]
Luxembourg
Luxembourg allows homosexuals to serve openly.[7]
Malta
Malta allows gay and lesbian people to serve openly in the armed forces. According to the Armed Forces of Malta, a number of openly gay people serve in the AFM, and the official attitude is one of "live and let live", where "a person's postings and duties depend on their qualifications, not their sexual orientation".[18]
The Netherlands
In 1974, the Netherlands was the first country to ban discrimination against gays in the military.[19]
On March 18, 2010, after U.S. President Obama announced that he wanted to put an end to the Don't Ask, Don't Tell policy, former U.S. general and high ranking NATO official John Sheehan blamed homosexuals serving in the Dutch military for the fall of Srebrenica to Serb militias in the Bosnian War fifteen years earlier, stating that homosexuals had weakened the Dutch UN battalion charged with protecting the enclave. In the U.S. Senate, Sheehan said that European countries had tried to "socialize" their armed forces by letting people serve in the army too easily, which according to him, left them weakened. He claimed that his opinion was shared by the leadership of the Dutch armed forces, mentioning the name "Hankman Berman", most probably referring to the then chief of the Dutch defence staff, Henk van den Breemen.[20] Dutch authorities dismissed Sheehan's statements as "disgraceful" and "total nonsense".[21][22][23][24][25] Dutch advocates of gay rights, organized in the "Pink Army" (foundation) and the Stichting Homosexualiteit en Krijgsmacht ("Foundation Homosexuality and Armed Forces"), announced a libel lawsuit against Sheehan.[26]
New Zealand
In New Zealand it has been legal for gay, lesbian, bisexual and transgender persons to serve in the military since New Zealand's Human Rights Act 1993 ended most forms of employment discrimination against lesbians, gay men and bisexuals. New Zealand military leaders did not oppose the end of military service discrimination [27][28]
Norway
Norway allows homosexuals to serve openly.[7]
Peru
Until December 2009, Peru had a ban on openly gay people in the armed forces. However, in December 2009, the Supreme Court of Peru held that sexual orientation cannot be a requirement for entry into the police force or the military. The Government accepted the decision.[29]
Philippines
The Philippine government have officially ended, as of 2009, the ban on gays in the military.[4]
Romania
Homosexuals are allowed to serve openly in the Romanian army. According to the Ministry of Defence's recruitment policy, "it is the right of every Romanian citizen to take part in the military structures of our country, regardless of their sexual orientation."[30]
Russia
See also: LGBT rights in Russia
Before 1993, homosexual acts between consenting males were against the law in Russia,[31] and homosexuality was considered a mental disorder until adoption of ICD-10 in 1999,[32] but even after that military medical expertise statute was in force to continue considering homosexuality a mental disorder which was a reason to deny homosexuals to serve in the military. In 2003, a new military medical expertise statute was adopted; it said people "who have problems with their identity and sexual preferences" can only be drafted during war times.[33] However, this clause contradicted another clause of the same statute which stated that different sexual orientation should not be considered a deviation. This ambiguity was resolved by the Major-General of the Medical Service who clearly stated that new medical statute "does not forbid people of non-standard sexual orientation from serving in the military."[34] Thereby, Template:As of, homosexual people in Russia can serve in the military, even openly — there is no official policy coercing them to hide their sexual orientation.
Slovenia
Slovenia allows homosexuals to serve openly, but homosexuality is still listed as a psychiatric disease.[7]
South Africa
South Africa allows homosexuals to serve openly.[7]
Spain
Homosexuals are allowed to serve openly in the Spanish Army. As of 2009, after the case of Aitor G.R, the courts also ruled that transgendered individuals are also permitted to serve in the military.[35]
Sweden
Sweden allows homosexuals to serve openly.[7]
Switzerland
Switzerland's military policies also allow for gay men and lesbians to serve openly without discrimination or harassment due to actual or perceived sexual orientation.[13]
United Kingdom
The United Kingdom's policy is to allow homosexual men and lesbians to serve openly, and discrimination on a sexual orientation basis is forbidden.[13] It is also forbidden for someone to pressure LGBT people to come out. All personnel are subject to the same rules against sexual harrassment, regardless of gender or sexual orientation. Since 2008, military personnel have been permitted to attend Gay Pride marches in uniform.[36]
Uruguay
Gays were prohibited from serving in the Uruguayan armed forces under the 1973-1985 military dictatorship, however this prohibition was lifted in 2009 when a new decree was signed by Defence Minister Jose Bayardi which provided that that sexual orientation would no longer be considered a reason to prevent people from entering the armed forces.[37]
Countries with other policies
The United States prohibits LGBT service members from serving openly under the "Don't ask, don't tell" policy. Service members who remain closeted are allowed to serve, but investigation into a member's sexuality without suspicion is prohibited.
See also
Sources
References
↑ Carassava, Anthee. "Greek mayor performs same-sex marriage", International Herald Tribune, 2008-06-03. Retrieved on 2009-02-01. Archived from the original on 2008-06-04.

 

↑ "Australia Ends a Prohibition On Homosexuals in Military", New York Times, November 24, 1992
↑ "Senate OKs Review of Courts-Martial", by Laura Ernde, Los Angeles Daily Journal, September 12, 2008, front page
↑ 7.00 7.01 7.02 7.03 7.04 7.05 7.06 7.07 7.08 7.09 7.10 7.11 7.12 7.13 Countries that Allow Military Service by Openly Gay People (PDF). PalmCenter (June 2009). Retrieved on 4 December 2009.
↑ Bermuda Regiment Standards of Conduct
↑ Strangeways, Sam (May 26, 2006). Bill's supporters stunned by defeat. The Royal Gazette. Retrieved on May 8, 2009.

 

↑ [1] "Não existe atualmente no Brasil lei específica que proíba o ingresso de homossexuais nas Forças Armadas"
↑ A.H.s.A.B. - Arbeitskreis homosexueller Angehöriger der Bundeswehr (Site is only in German)
↑ Second Thoughts on Gays in the Military, By JOHN M. SHALIKASHVILI, January 2, 2007.
↑ 15.0 15.1 Eichner, Itamar. "Follow Israel's example on gays in the military, US study says", Ynetnews, 2007-02-08. Retrieved on 2008-09-30.

 

↑

The chief of staff's policy states that it is strictly forbidden to harm or hurt anyone's dignity or feeling based on their gender or sexual orientation in any way, including signs, slogans, pictures, poems, lectures, any means of guidance, propaganda, publishing, voicing, and utterance.

↑ Homosexuality and the Israel Defense Forces: Did Lifting the Gay Ban Undermine Military Performance?
↑ AFM denies discrimination on basis of sexual orientation, The Malta Independent
↑

Shilts, p. 572

↑

Estrada, Armando. Attitudes of Military Personnel Toward Homosexuals. Journal Of Homosexuality, 37(4), 83

↑ Dilema Armatei romane: cu sau fara homosexuali, Evenimentul Zilei, 26 November 2006
↑ Russia: Update to RUS13194 of 16 February 1993 on the treatment of homosexuals. Immigration and Refugee Board of Canada (

29 February 2000

).
↑ Warner, Nigel (November 1999). The Russian Federation has dropped "homosexual orientation" from its new classification of mental and behaviour disorders. ILGA Euroletter 75. France QRD.
↑ "Russian army to ban gays", BBC News, BBC,

13 March 2003

.

 

↑ "Gays are not Willingly Accepted in the Russian Army", Pravda Online,

1 December 2003

.

 

↑

Transexuales en el Ejército Español, Miguel Ruiz, Feb. 10, 2009
External links
---
Community content is available under
CC-BY-SA
unless otherwise noted.