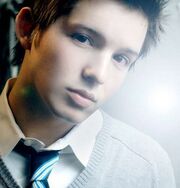 Simon Curtis (born March 18, 1986) is an American singer-songwriter, record producer, and actor. Born in Michigan and raised in Tulsa, Oklahoma, he first gained recognition for his role as Royce Du Lac in the 2009 film Spectacular! before venturing into pop music, during which he released his debut extended play Alter Boy in 2008, his debut full-length studio album, 8Bit Heart in 2010, and in 2011, he released his second studio album (and first commercial release) RA; the two later releases were released through his independent label, BoyRobot Records.
RA debuted at number 20 on Billboard's Dance/Electronic Albums chart.
Early and Personal life
Simon Curtis was born in the state of Michigan, United States, and spent his earliest years in Alpena. His family later moved to Tulsa, Oklahoma. At the age of ten, he was diagnosed with leukemia. He graduated from Jenks High School in 2004. Curtis earned a coveted role in the national tour production of the musical Joseph and the Amazing Technicolor Dreamcoat. Simon is openly gay.