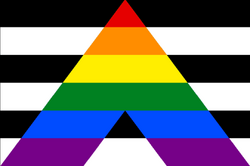 Straight ally is a colloquial term that describes a straight (heterosexual person) who supports equal civil rights, gender equality, and LGBT social movements. Usually, a straight ally is inclusive of various diversity, and may have many gay and lesbian friends.
Some organizations, such as gay-straight alliances often consist predominantly of straight ally members.
Parents, Families and Friends of Lesbians and Gays is one national organization that works specifically to bring straight allies into the LGBT rights movement. In 2007, the organization launched a new project, Straight for Equality, to help more straight allies become engaged in achieving equality for all.
Prominent examples of strong allies include Elton John's lyricist Bernie Taupin, actors Jennifer Aniston, Charlize Theron, Cybil Shepard, Judith Light, Ben Affleck, Brad Pitt and Stuart Townsend, director Jonathan Miller,[1] comedian Kathy Griffin, singers Madonna Ciccone, Cher, Dannii Minogue and Barbra Streisand, musician and spoken word artist Henry Rollins, evolutionary scientist Richard Dawkins,[2] NFL Commissioner Paul Tagliabue, philosopher Daniel Dennett,[3] United States Democratic Senator Russ Feingold, Robert Lewan president of the Michigan GSA, Australian Greens Senator Kerry Nettle,[4] civil rights leaders such as Coretta Scott King[5] and Julian Bond, linguist Noam Chomsky,[6] historian Richard Carrier,[7] and mothers Betty DeGeneres and Judy Shepard.
References
External links