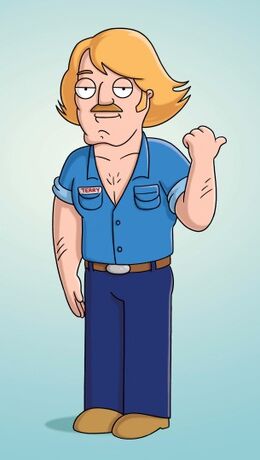 Terry Kimple is a major character on The Cleveland Show. He is an old friend of Cleveland Brown's. He is a bisexual.
Background
Terry and Cleveland have been the best of friends since high school. They did things such as playing baseball, smoking pot, and having parties. The two of them were separated one time in high school, when Principal Farquahre caught them smoking pot and Terry took the blame. He was kicked out of the school for what he did, having put himself on the line to save Cleveland.
Years later, Cleveland started working at Waterman Cables, where Terry just so happened to have also been working. The two of them were happily reunited once again and started hanging out again, working alongside each other and drinking at The Broken Stool.
For most of his life, Terry has always been a ladies man, which is something that he is well-known for, especially by Cleveland. However, in the episode "Terry Unmarried", Cleveland saw Terry making out with a man at a gay bar, much to his shock. When asked more about his sexuality, Terry simply claimed "I don't know." He loves men, but he also loves women just as much, meaning that he must be a bisexual. He also introduced his boyfriend, Paul, who he later got married to in the same episode. After marrying Paul, Terry had settled for him and had no longer showed any interest in females. Although this was very weird and disgusting for Cleveland, he would eventually learn to adjust to Terry being a homosexual.