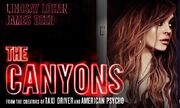 The Canyons is a 2013 American erotic thriller-drama film directed by Paul Schrader and written by Bret Easton Ellis. The film is set in Los Angeles and stars Lindsay Lohan, James Deen, Nolan Funk, Amanda Brooks and Gus Van Sant. It received a limited release on August 2, 2013 at the IFC Center in New York City, the Bell Lightbox in Toronto and on video on demand platforms.
Gay Plot
Christian is a wealthy young man who produces low budget horror films. At the start of the film, he is having dinner with his girlfriend Tara, his personal assistant Gina and her boyfriend Ryan. Christian has recently secured a leading role for Ryan in one of his films. Christian reveals that he and Tara have an open relationship and use dating apps to find partners for group sex. In discussing this, Christian outs Tara as bisexual. He says that he trusts Tara never to fall in love with anyone he brings into their bed for casual sex.
Christian and Tara leave the dinner to prepare for the arrival of their latest dating app paramour. Tara is unhappy that Christian outed her as bisexual, demanding Christian tell her what he tells his therapist as quid pro quo. Christian refuses and the argument ends abruptly when their date arrives.