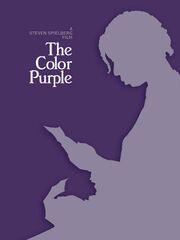 The Color Purple is a 1985 American coming-of-age period drama film directed by Steven Spielberg with a screenplay by Menno Meyjes, based on the Pulitzer Prize-winning 1982 novel of the same name by Alice Walker. It was Spielberg's eighth film as a director, and marked a turning point in his career as it was a departure from the summer blockbusters for which he had become known. It was also the first feature film directed by Spielberg for which John Williams did not compose the music. The film stars Danny Glover, Whoopi Goldberg, Desreta Jackson, Margaret Avery, Oprah Winfrey, Rae Dawn Chong, Willard Pugh, and Adolph Caesar in one of his final film roles.
Filmed in Anson and Union counties in North Carolina, the film tells the story of a young African-American girl named Celie Harris and shows the problems African-American women faced during the early 20th century, including domestic violence, incest, pedophilia, poverty, racism, and sexism. Celie is transformed as she finds her self-worth through the help of two strong female companions.
The film was a box office success, grossing $142 million against a budget of $15 million. The film received positive reviews from critics, receiving praise for its acting, direction, screenplay, musical score, and production values; but it was also criticized by some critics for being "over-sentimental" and "stereotypical". The film was nominated for eleven Academy Awards, including Best Picture, Best Actress for Goldberg, Best Supporting Actress for both Avery and Winfrey, and Best Adapted Screenplay, without winning any; it also received four Golden Globe Award nominations, with Whoopi Goldberg winning Best Actress in a Drama. Steven Spielberg did not receive an Academy Award nomination for his directing, but did receive a Directors Guild of America Award for Outstanding Directorial Achievement, and a Golden Globe nomination. The film was later included in Roger Ebert's book series The Great Movies.
Gay Plot
Mister and Harpo bring home the ailing Shug Avery, a showgirl and Mister's long-time mistress. Celie, who has slowly developed a fondness for Shug through a photograph sent to Mister, is in awe of Shug's strong will. She nurses Shug back to health, and Shug in turn takes a liking to her, writing and performing a song about her at Harpo's newly opened bar. Shug tells Celie she's moving to Memphis, and Celie confesses to Shug that Mister beats her. Shug tells Celie she's beautiful and that she loves her, and they kiss. Celie packs her things to follow Shug to Memphis, but gets caught by Mister.