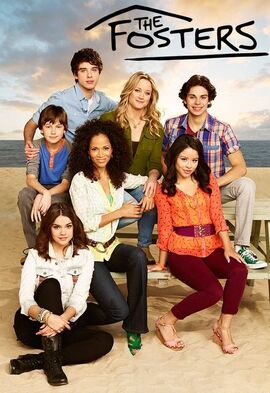 The Fosters is an American family drama television series created by Peter Paige and Bradley Bredeweg which first premiered in the United States on June 3, 2013 on the Freeform (previously named ABC Family) television network. It follows the lives of the Foster family led by lesbian couple Stef and Lena, a cop and a school vice principal respectively, who raise a multi-ethnic blended family that consists of one biological and four adopted children in San Diego, California.
The first season of The Fosters received generally favorable reviews from critics and also garnered particular acclaim for its portrayal of LGBT themes. It also earned two GLAAD Media Awards and one Teen Choice Award.
Overview
The series follows the lives of police officer Stef Foster and her wife Lena Foster, a school vice principal, and their multi-ethnic, blended family. Stef and Lena are the parents of Brandon Foster, who is Stef's biological son, and the twins, Jesus and Mariana who were adopted as small children. At the outset of the series, the couple take in two foster children: Callie and Jude, who had been bounced between foster homes and were later adopted by the Fosters family. Also part of their lives is Mike Foster, who is Stef's patrol partner and ex-husband, as well as the father of Brandon.
Most of the show takes place in their quiet San Diego suburb and at Anchor Beach Community Charter School, where Lena works and Foster children go to school.
LGBT Cast & Crew
LGBT Characters
Lesbian
Gay
Transgender