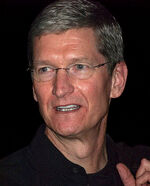 Tim Cook
Born
November 1, 1960
Birthplace
Mobile, Alabama, USA
Occupation
CEO of Apple Inc.
Parents
Donald & Geraldine Cook
Timothy Donald "Tim" Cook (born November 1, 1960) is an American business executive, and is the CEO of Apple Inc.[1] Cook joined Apple in March 1998[2] as Senior Vice President (SVP) of Worldwide Operations—he also served as Executive Vice President (EVP) of Worldwide Sales and Operations—and was Chief Operating Officer (COO) until he was named the CEO of Apple on August 24, 2011, when he succeeded Steve Jobs.[3] (Cook had previously served as acting CEO of Apple after Jobs began medical leave in January 2011.)[4] In early 2012, he was awarded compensation of one million shares, vesting in 2016 and 2021, by Apple's Board of Directors.[5]
Cook also serves on the board of directors of Nike, Inc.[3] and the National Football Foundation.[6]
Early life and education
Cook was born in Mobile, Alabama, United States,[7] and grew up in nearby Robertsdale. His father was a shipyard worker, and his mother worked at a pharmacy.[7]
Cook graduated from Robertsdale High School. He earned a B.S. degree in industrial engineering from Auburn University in 1982,[8] and his Master of Business Administration (MBA) from Duke University's Fuqua School of Business in 1988.[9]
Personal life
Cook is a fitness enthusiast and enjoys hiking, cycling, and going to the gym. Cook is known for being mostly solitary—he uses an off-campus fitness center for privacy—and very little is publicly known of his personal life: he explained in October 2014 that he has sought to achieve a "basic level of privacy."[10][11] Cook was misdiagnosed with multiple sclerosis in 1996, an incident he said made him "see the world in a different way." He has since taken part in charity fundraising such as cycle races to raise money for the disease. Cook later told an Auburn alumni magazine that his symptoms came from "lugging a lot of incredibly heavy luggage around."[12]
While delivering the 2010 commencement speech at Auburn University, Cook emphasized the importance of intuition during significant decision-making processes in his life, and further explained that preparation and hard work are also necessary to execute upon intuition.[13]
Coming out as gay
On October 30, 2014, Cook came out as gay in an editorial for Bloomberg Businessweek, stating: "I'm proud to be gay, and I consider being gay among the greatest gifts God has given me." Cook also explained that he has been open about his sexuality "for years" and, while many people at Apple were aware of his sexual orientation, he has sought to "focus on our [Apple's] products and the incredible things our customers achieve with them."[14]
References