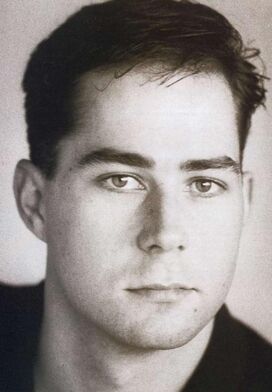 Tim Conigrave (November 19, 1959—October 18, 1994) was an Australian actor, writer, and activist. He was born in Melbourne, and after attending the Jesuit Xavier College and Monash University he moved to Sydney to study at the National Institute of Dramatic Art (NIDA), from which he graduated in 1984. Two years later he was instrumental in initiating the acclaimed Soft Targets (1986) project at Sydney's Griffin Theatre Company. Conigrave also served on the Board of Directors at Griffin.
He appeared in such plays as Brighton Beach Memoirs, As Is, and On Top of the World. He also wrote plays, and these include Thieving Boy, Like Stars in your Hands and The Blitz Kids.
He was a member of The Globos, a musical comedy cabaret group, performing at Sydney's Kinselas nightclub in the mid 1980s.
His major work is the autobiographical Holding the Man (1995), the story of his 15-year love affair with John Caleo, published by Penguin in Australia in February 1995. They met in high school when John was captain of the football team and Tim wanted to be an actor. Conigrave finished the book shortly before dying of an AIDS-related illness. The book won the 1995 United Nations Human Rights Award for Non-Fiction, and has also been published in Spain and North America.
The book has been adapted into a multi award-winning play by Tommy Murphy. The premiere production, directed by David Berthold, is one of the most successful Australian theatre productions in recent years. It completed a sell-out season in November-December 2006 at Griffin Theatre Company, becoming the company's highest-grossing production in its 28-year history. It played a return season at Griffin, 7 February - 3 March 2007, also sold out, before transferring to the Sydney Opera House for a third sell-out season, 9-26 May, 2007. Company B at the Belvoir St Theatre hosted a fourth season 22 September-4 November, 2007. A fifth season played at the Brisbane Powerhouse in early March 2008, with a sixth following as part of Melbourne Theatre Company's 2008 season, 19 March-26 April 2008. There has also been a production in San Francisco, with another planned for New Zealand.
Conigrave and his lover, John Caleo, were diagnosed with HIV in 1985. They remained relatively healthy until 1990. In 1991, John was diagnosed with cancer, and Conigrave nursed him until his death on Australia Day (26 January) 1992, despite fighting his own illness.
External links