Wellington is the capital city of New Zealand, situated at the south of the North Island. The urban area population is 370,000 (2005 estimate). Wellington has a vibrant scene and a generally gay-friend populace.
Politics
Politically, Wellington is New Zealand's most socially liberal city. It is also the best educated and wealthiest. Social democratic, green, and libertarian parties are strong in Wellington, and conservative political parties are correspondingly weak.
Successive mayors have been notable for their support of the gay and lesbian community. Former Wellington Mayor Fran Wilde was the sponsor of the Homosexual Law Reform Act 1986.
Demographics
Many gay and lesbian people from the regions of the southern North Island and South Island move to Wellington to become part of a larger community. Anecdotally, the main catchment area is the southern half of the North Island (Taranaki, Wanganui, Manawatu, Horowhenua, Hawke's Bay, Wairarapa) — and Nelson, Marlborough and Otago in the South Island. There are also a large number of former Aucklanders and an even larger number of people from overseas. Many people from Asia move to Wellington to study.
Attitudes to sexuality
Recreation in Wellington is focused on the inner city, which is a reasonably dense heterogenous melting pot. As a result, diversity is usually accepted and violence is very uncommon, but not unheard of. People generally feel free to be overt about their sexuality in any venue in the inner city. Suburban venues are often closer in style to the traditional New Zealand pub, and can be more conservative.
Venues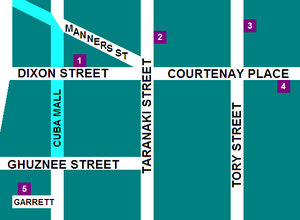 Public bars
Pound nightclub
Level 1, The Oaks Complex, Dixon Street, Te Aro
Pound is marketted as two venues in a single complex. Sovereign is a wine bar open Wednesday to Sunday. Pound is a nightclub open only on Friday and Saturday nights.
Sovereign bar has karaoke evenings on Thursday nights and a pool competition on Sunday nights.
Monkey bar
Basement, 25 Taranaki St, Te Aro
Monkey bar is transitioning into a gay and lesbian venue. It is currently advertising only by word of mouth.
Men's sex-on-site venues
Sanctuary
45 Courtenay Place, Te Aro
Santuary is a cruise club.
Club Wakefield
15 Tory St, Te Aro
Club Wakefield is a sauna near Courtenay Place.
Checkmate Men's Sauna
20 Garrett St, Te Aro
Garrett St is a side street off Cuba Street, one block up from Ghuznee Street.